Duke of Edinburgh (DofE) Award
What is the Duke of Edinburgh award?
DofE is a popular, and very respected, youth achievement award open to young people up to the age of 24.
How does it work?
The Award has three levels: Bronze, Silver and Gold: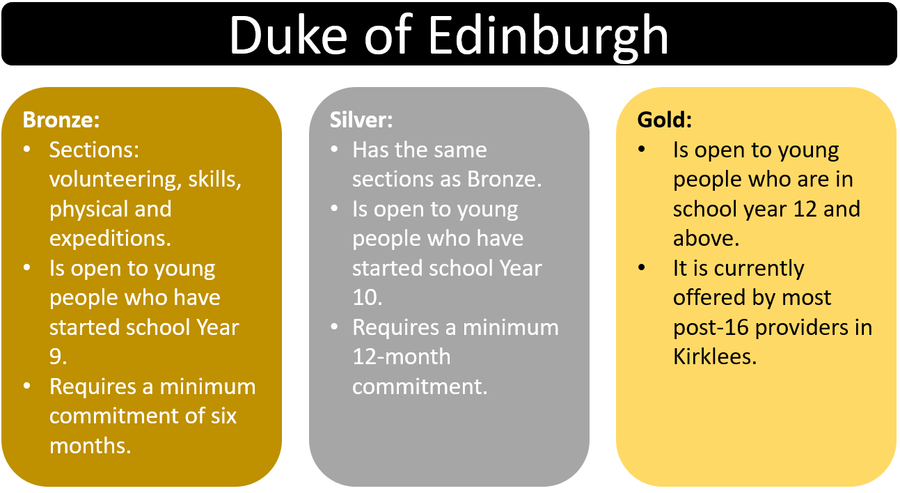 The four sections: Please click the images below to find out more
Doing the Award at King James's School
Most students start the Bronze award in Year 9 or 10. If students complete Bronze in Year 9, they can start Silver in Year 10.
Students must put in a great deal of effort in addition to their school commitments. Completing the Award takes commitment, drive and dedication.
Why King James's students take the Award
Finishing the Award at any level is a real achievement and contributes to the pupils' all-round experience at King James's.
When a student undertakes their DofE programme, they will develop the skills and attitudes they need to become more rounded, confident adults, qualities that attract colleges, universities and employers. When parents and carers back their child's pursuit of a DofE Award, they are investing in valuable skills and setting the tone for a lifetime of achievement. Parents and Carers will see all kinds of new talents bloom as they achieve their Award including:
Self-belief and s

elf-confidence

A sense of identity and

responsibility

Initiative, l

eadership and team-working skills

A real awareness of their strengths

New talents and abilities and n

ew friendships

The ability to plan and use time and

to learn from and give to others in the community

Problem solving, presentation and communication skills
Bronze Award for Year 9 students (2020 - 2021)
Registration for Year 9 students will begin in September 2020. If you are interested:
Watch the four presentations about each of the sections for DofE.
Read the information booklet carefully.
Complete the registration form.