Open Evening 2023
Open Evening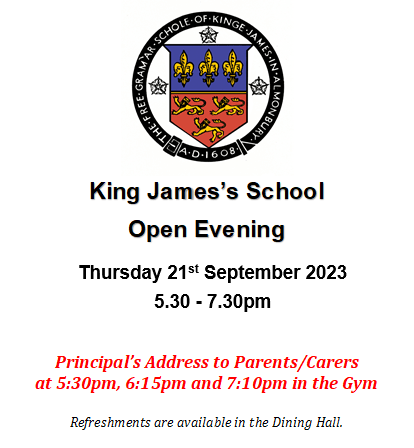 The evening will officially run from 5:30pm to 7.30pm, but there will be an informal meet and greet with members of our Senior Leadership Group in the dining hall (with refreshments) from 5.15pm.
You will then be free to walk around school or be supported by one of our senior students on a guided tour.
You will be able to view activities and demonstrations taking place in all departments and talk to students and staff who will be happy to answer any questions you might have.
Booking
We expect high attendance on the evening.
In order to support our planning of the event, and to manage numbers for each of the Principal's addresses, please complete our online booking form.
Parking
Unfortunately, there is limited parking on site, so if you can car share or come by other means, that would be extremely helpful.
We will be asking those who do come by car to park in the tennis courts (access is via the slip road up the side of the site). Please be respectful and do not block any entrances or driveways of our neighbours. Staff will be on hand to guide you to the school entrance and provide information regarding what is happening around school.
Virtual Tour
If you are unable to attend the event, you can have virtual tour of the school here
Evaluation
Thank you for attending King James's School Open Evening; we hope you found it informative and enjoyable.
We would really appreciate it if you could spend just a few moments completing our electronic feedback form by:
scanning the QR code below
The form will close at 3pm on Friday 6th October. Your response will help us evaluate how useful the Open Evening has been for prospective parents/carers.
Admissions
Our admission arrangements are as follows: